What has the NBA's recent offensive explosion meant for sports betting, particularly as it pertains to player props? James Bisson takes a look at the growing phenomenon of public bettors flooding the over on NBA player prop bets like never before.
These are the numbers you usually only see when playing 2K on Beginner difficulty – and they show up a lot these days.
In the last month alone, we've seen the following stat lines produced in official NBA regular season games:
Donovan Mitchell had 71 points (the eighth-highest total in NBA history) and added 11 assists in the Cleveland Cavaliers' 145-134 win over the Chicago Bulls
Luka Doncic hit a triple-double with 60 points, 21 rebounds and 10 assists in the Dallas Mavericks' 126-121 OT triumph over the New York Knicks
Milwaukee's Giannis Antetokounmpo averaged an incredible 43 points and 18 rebounds in four games in late December and early January, a stretch that included 40-20 consecutive performances
Devin Booker scored 58 points in Phoenix's 118-114 win over New Orleans just 2 1/2 weeks after he scored 51 points in a one-sided win over the Bulls
Klay Thompson hit 10 3-pointers en route to a 54-point ante in a 143-141 Gold State win over Atlanta.
I could go on, but you get the point.
Check out our top NBA picks here!
As of Friday, there have already been a whopping 52 games in which a player has scored at least 43 points in a game, including 14 50-point appearances. By way of comparison, there were only 19 such games in the entirety of last season.
Put simply, the best players in the world are shooting – and it's having a massive impact on the NBA betting landscape. In particular, the exploding popularity of prop betting for gamblers.
Over on Boston Celtics star Jayson Tatum's points for Thursday's game against the Dallas Mavericks was the second most popular market of any NBA bet, only behind the Memphis Grizzles-Orlando Magic O230 game. Player props have continued to grow in popularity among both casual and experienced sports bettors, but they now enjoy a whole different level of popularity.
"It's insane how popular player props have become," said Adam Pullen, assistant director of trading at Caesars Sportsbook. "Now we have all of these options available for each statistical category. It's just another angle – you don't have to worry about how the team will perform if these guys keep putting up big numbers.
"Some people just prefer to focus on how a player is going to perform rather than hampering an entire team. We see a lot of sharp action on props and it's by far the most difficult thing we can book for player props of any major sport."
Editor's Note: Hey Ohio! Welcome to legal sports betting. Check out the best Ohio sports betting sites and the best Ohio sports betting promotions! 21+ and available in OH. gambling problem? Call 1-800-GAMBLER.
Not only are people betting on NBA player props in greater numbers than ever before, they're also leaning hard into the over.
Pullen explained that the gamer prop markets – especially those for signature games – are ridiculously one-sided. And considering overs have always been the public preference, that's really saying something.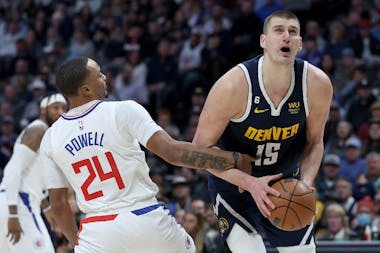 DENVER, COLORADO – JANUARY 5: Nikola Jokic #15 of the Denver Nuggets is fouled in the basket by Norman Powell #24 of the Los Angeles Clippers in the first quarter at Ball Arena on January 05, 2023 in Denver, Colorado. Matthew Stockman/Getty Images/AFP
"If you get the familiar ESPN or TNT games that are good matchups and set up to feature the stars, more people are going to want to place bets on their player props," Pullen said. "So you have to be wondering how high you're going to bet those (player-prop) totals, especially after seeing someone score 50 or 60 in the last game.
"When you see these guys putting up monster numbers every night, it makes it even harder to bet on Unders.
Even more? That's putting it mildly. Everyone bets on the over. Take Thursday night's TNT doubleheader for the most blatant example of this.
Doncic had a 34.5 points prop (Over-119/Under-115), a 9.5 rebounds prop (+110/-151) and an assists prop of 8.5 (-109/-125). The over for Doncic's points prop saw a whopping 97.2% of the tickets and 97.1% of the handle, while the overs for his assists and points/rebounds/assists props saw 100%.
Check out our list of NBA odds here!
The numbers for Denver Nuggets star Nikola Jokic were even more one-sided. The reigning NBA MVP went into Thursday's matchup against the LA Clippers with a points advantage of 27.5 (-133/-103). 99.4% of the tickets and 99.8% of the handle ended up on the over.
But here's the thing: The Unders dominated Thursday night. Tatum, whose point prop closed at 31.5, ended up with 29 points. Doncic went 3-0 on his point/rebound/assist overs against the Celtics, as did Jokic.
Combine the betting action on all three players' point props and you get 98.6% of the tickets and 95.3% of the handle on the over. That's a lot of loss — and suggests it might be worth taking a look at the under every now and then, especially with so much public money flowing into the over.
"It makes perfect sense that these props are extremely lopsided," Pullen said. "If you're a savvy bettor or someone who likes to play against the public money, you should probably wait for the last minute to bet these.
"That line is usually pumped up by all this public money, so you usually get the value there at the very end, not the beginning — unless a line is deemed outrageous when it opens."
Here are our best betting sites:
* Bonuses do not apply in Ontario.
Related Pages