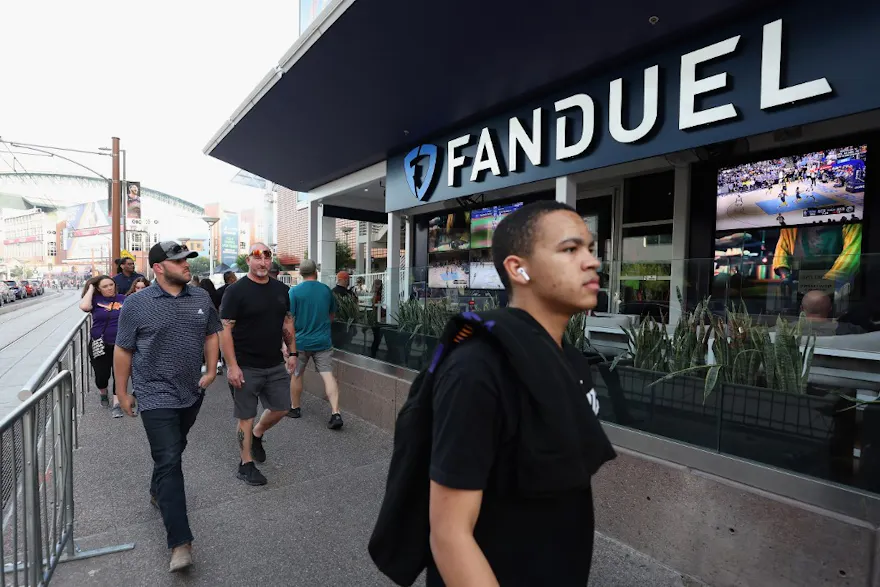 PHOENIX, ARIZONA – APRIL 26: Fans walk at a Fanduel sportsbook prior to game five of the Western Conference first round NBA playoffs between the Phoenix Suns and the New Orleans Pelicans on April 26, 2022 in Phoenix, Arizona at the Footprint Center. NOTICE TO USER: User expressly acknowledges and agrees that by downloading and/or using this photograph, the user agrees to the terms of the Getty Images License Agreement. Christian Petersen/Getty Images/AFP (Photo by Christian Petersen/GETTY IMAGES NORTH AMERICA/Getty Images via AFP)
As an avid futures bettor, I decided to powerrank my favorite sports bets ahead of week 1 of the NFL season based on futures value. This article provides a performance ranking of seven of the largest sportsbooks in the United States.
To rank my favorite sports bets for NFL futures betting, I considered a number of factors. In the end, the most important factor for me was whether a sportsbook was willing to take a high volume of money. With these season-long bets, a lot of time is spent finding odds and the last thing I want is to open my app and find I can only bet $50.
Here's my list of the best legal US sportsbooks when it comes to NFL futures value:
1. Caesars Sportsbook
✅ Higher limits on futures markets
❌ No presence on "exotic markets".
Caesars Sportsbook is my number one choice when it comes to betting on NFL futures. There are many issues I have with other sportsbooks that have not been apparent with Caesars in my betting history. One of the main reasons is that they accept bets of much larger amounts.
Caesars deserves a lot of credit; There have been instances where I placed a bet, it was sent to the dealers, they approved it and then moved the line after my bet was accepted. That's how sports betting should work, but that's not the case with FanDuel or DraftKings. Caesars takes the bet and moves the line while FD and DK don't take the bet.
When it comes to the markets that Caesars offers, the sportsbook is very competitive with the other sportsbooks. The amount of player and team futures Caesars is offering is very similar to what we see elsewhere. The only thing you won't find at Caesars is an exotic market like the "Next Team for Odell Beckham Jr."
Read our Caesars sports betting review
Check out Caesars Sportsbook Bonuses (US players only)
2. PointsBet Sportsbook
✅ Futures odds remain live on NFL Sunday
❌ Lack of creativity in the future
As far as I'm concerned there are two main benefits of betting at PointsBet Sportsbook, one being the ability to cash out and the other being that their markets stay live during an NFL Sunday.
On the other hand, one of PointsBet's problems is that they don't have as many futures markets as some other notable sportsbooks.
Player totals are not available at PointsBet if you wish to bet on them. There is nothing creative in the betting menu either, unlike DraftKings and FanDuel.
One of the advantages of a PointsBet account is that the futures are adjusted while the games are being played on Sunday. It's common for sportsbooks to pull odds as soon as games start – but not PointsBet. Having an account is a real benefit because if something notable happens in a game you can try to skip the odds and take advantage of that event before the sportsbook number shows up.
Another benefit of having a PointsBet account is that it offers multiple futures markets withdrawals. While the payout will never provide you with reasonable value, it's at least handy to have available in the event of a devastating injury.
Read our PointsBet sports betting review
Check out Pointsbet Sportsbook Bonuses (US players only)
3. Bar stool sports betting
✅ Better lines by overreacting
❌ No competitive advantage in trending games
The most important aspect of futures betting is price shopping to get the highest number possible. Consistently buying numbers at peak times gives you more flexibility in the future.
As a futures bettor, I've noticed the possibility of catching some dubious numbers at Barstool Sportsbook. In some cases, Barstool's pricing for a futures market is very different from Caesars or FanDuel, and you can take advantage of that.
It is common for Barstool futures prices to overreact in response to breaking news or dominant performances by a particular player or team. In some situations, you may find much longer prices for other players or teams in that market as a result of the massive adjustment made to someone else. You will find massive price differences compared to other sportsbooks, but it will never be a longer price for a trendy name or team.
For a futures bettor, any sportsbook willing to post different numbers is of great value. It is important to keep in mind that we combine odds from all available sportsbooks to create our own sportsbook betting odds. This allows us to reduce the hold. As a futures bookmaker, Barstool's willingness to price things differently than its competitors is of great value to me.
Read ours Bar stool sports betting review
Check out Barstool's Sportsbook Bonuses (US players only)
4. DraftKings Sportsbook
✅ Many markets
❌ Low betting limits
DraftKings Sportsbook is similar to FanDuel in that they are very creative and publish a large number of player futures not found elsewhere. Both DraftKings and FanDuel rely heavily on their respective DFS backgrounds (and reputations) to attempt to bring a few different futures markets into the betting space.
If you are a futures bettor, DraftKings is a good sportsbook to have an account with as they have many fun markets and you can find advantages in those markets. But don't expect to make a lot of money from these bets as the limits are very low.
The downside to DraftKings is that many of the markets they offer are very predatory from a betting perspective. For example, they will create one-way markets where they only offer a "yes" bet, so the sportsbook will not be affected by a "no" price. There are a number of exotic markets they offer that also have an extremely high hold percentage.
The best thing about DraftKings is the way they organize their futures markets. If you're looking for prices, it's very easy to find what you're looking for.
Read our DraftKings Sportsbook Review
Check out DraftKings Sportsbook Bonuses (US players only)
5. BetMGM Sportsbook
✅ Industry standard futures lines
❌ Below average user interface/navigation
As far as futures betting goes, BetMGM Sportsbook is one of my least favorite operators – and it has nothing to do with the odds or the markets they offer. In my opinion they have the worst navigation of any sportsbook and their odds are displayed with a single scroll bar. When time is of the essence with breaking news, I don't have the time to search their sportsbook for a number as they make it so difficult to find what you're looking for.
In terms of their offering, they are on par with some other sportsbooks. BetMGM offers nothing particularly noteworthy. Given my experience as a futures bettor, I believe there are far better options than BetMGM.
Read our BetMGM Sportsbook Review
Check out BetMGM Sportsbook Bonuses (US players only)
6. BetRivers Sportsbook
✅ Strong Super Bowl odds menu
❌ Difficult app to navigate
As with BetMGM, BetRivers Sportsbook makes it difficult to navigate through the sportsbook at any speed. Futures betting relies heavily on reacting to breaking news, which is difficult when you're unable to find the market you want to bet on.
I've noticed that BetRivers has excelled in Super Bowl week in the past. In terms of betting options, the Super Bowl betting menu was both extensive and creative. There were a number of advantages in the bets published by BetRivers for the Super Bowl that were not available at other sportsbooks. Even just for the Super Bowl, it's worth opening an account.
Read our BetRivers sports betting review
Check out BetRivers sportsbook bonuses (US players only)
7. FanDuel Sportsbook
✅ Detailed player futures offers
❌ Significantly lower betting limits than the industry standard
As a result of their history in daily fantasy sports, FanDuel Sportsbook offers a wide range of player futures. It provides totals on players in obscure markets like tackles and sacks. The company also publishes a large number of futures markets on who will lead a particular statistical category. There may be a few of these markets offered by other sportsbooks, but FanDuel offers them all.
The player futures offered by FanDuel are also very innovative. The operator offers a wide range of alternative markets for player futures that are not available at other sportsbooks. For example, you can bet on a running back rushing 1,250 yards in the rushing props.
As a futures bettor, I have one main complaint with FanDuel, and that is that it's not willing to take big bucks on your bets. Don't be surprised if you're only allowed to put $30 on a futures bet. FD's prices are consistently among the longest of any sportsbook, but you can't bet a lot of money on these long odds.
Read our FanDuel sports betting report
Check out FanDuel Sportsbook Bonuses (US players only)

Written by:
Jon Metler

Twitter link

Jon Metler is a sports betting analyst at SportsbookReview.com. He has been in sports betting for over 12 years and specializes in futures markets. He keeps a close eye on futures market movements across a variety of sports in search of value. He is a firm believer in analytics and always being one step ahead of the curve; let the numbers do the talking. Jon covers futures markets in the MLB, NFL, NBA, NHL, NCAAF, NCAAB, PGA Tour and LPGA. A lifelong Detroit Tigers fan, he still has nightmares of Torii Hunter knocking over the Boston Red Sox's bullpen. After redeeming consecutive LPGA Money List futures tickets priced up to +8000 in 2020, Jon serves as the President of the Jin Young Ko Fan Club. Jon has a bachelor's degree in Physical Education from the University of Windsor. You can find him watching games, listening to sports, or looking for his golf ball in the woods.