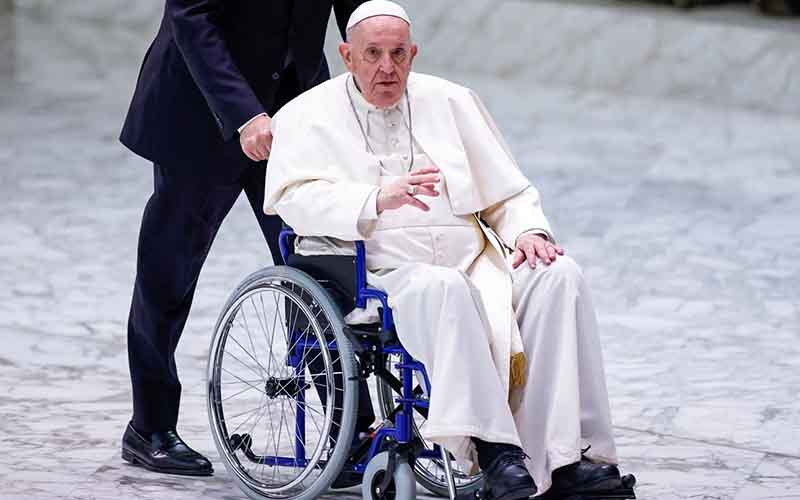 Speculation about Pope Francis' possible resignation due to ongoing health issues linked to a nerve problem in his knee has been rife.
The condition has forced Pope Francis, now 85, to use a wheelchair, and the cancellation of a number of recent trips has many expecting his reign to end soon.
Pope Francis dismissed all retirement concerns in late June when he announced his intention to continue his ministry, although there could be various possibilities as to when his papacy will end.
"I want to live my mission as long as God allows me, and that's it."
Pope Francis
Legal entertainment betting sites have weighed odds for the next pope from a group of cardinals, bishops and priests who are eligible for the office.
Next Pope Odds
Mark Ouellet +400
Luis Antonio Tagle +400
Peter Turkson +400
Oscar Rodríguez Maradiaga +500
Christoph Schoenborn +750
Raymond Leo Burke +750
Angelo De Donatis +1000
Angelo Scola +750
Sean Patrick O'Malley +1000
Timothy Dolan +1000
Pietro Parolin +1200
Peter Earth +1400
Odilo Pedro Scherer +1400
Gianfranco Ravasi +1400
Mauro Piacenza +1400
Robert Sarah +1400
Matteo Zuppi +1600
João Braz de Aviz +1800
Wilfred Napier +1800
Dominik Duka +2000
Gerhard Ludwig Mueller +2200
Malcolm Ranjith +2500
Mario Grech +3000
Willem Eijk +3300
Angelo Bagnasco +4000
Carlos Aguiar Retes +4000
Fernando Filoni +4000
Charles Maung Bo +4000
Vincent Nichols +1400
Leonardo Sandri +1600
Agostino Vallini +1600
Antonio Canizares Llovera +2200
Vinko Puljic +2200
There's a three-way tie at the top and a fourth coming close behind, creating a clearly defined top four that's separate from the rest of the pack.
Cardinal Bishop Mark Ouellet is currently 78 years old, which is three years past the usual retirement date of 75. Pope Francis may want to choose a slightly younger successor to ensure his influence continues into the next generation.
One intriguing possibility is Cardinal Bishop Luis Antonio Tagle, who would become the first Asian pope and is relatively young at 65. Even if current entertainment bets place him at the top of the odds, Luis Antonio Tagle will still deliver 4-to-1 net payouts once he is elected the next pope.
Cardinal Priest Peter Turkson would be the first African American ever to rise to the rank of Pope. He's 73, so there's not much prospect of longevity, but he seems to be following the modern views of Pope Francis.
Cardinal priest Oscar Rodriguez Maradiaga from Honduras lands just behind the top three. At 79, his age may put him on the backup shortlist, but for now he has a fighting shot at climbing the ranks.
There are also odds for current events bets that ask what the papal name of the next pope will be.
What will the papal name of the next pope be?
Franz +300
lion +300
Pius +400
John +400
Gregory +700
Benedict +700
Paul +900
Clement +1000
John Paul +1000
Stephen +1200
Boniface +1200
Innocent / Blessed Innocent +1200
Joseph / Josephus +1500
Alexander +1500
Celestine +2200
Urban / Blessed Urban +220
Although the process is shrouded in some mystery, it is believed that new popes are allowed to take their own name, often choosing that of a former pope, which most closely matches their ideology.
If the papal quotas above are correct, then the current pope has much influence as his name is expected to be reused by the next to fill his position. Leo, Pius and Paul are also in the running.
If you are interested in betting on the next pope, do so now because these odds have been known to disappear quickly.
Pope Betting Odds: BetUS
Source: CBN